Portable enail devices offer the convenience, control and power of an electronic dab device, while still utilizing the traditional rig setup for maximum water filtration enabling the smoothest dab possible. In this years Best Portable Enail List, we have some Quartz Portable Enails, Ceramic Portable Enails and even Digital Portable Enails,along with a few 2-in-1 enail devices and even 3-in-1 enail devices!
Portable enails fit rigs 14mm-19mm whether male or female. When using a 10mm connection rig an adapter would be necessary. We've spent the time and money sifting through the latest portable enails to find the best portable enail devices currently on the market! You can be sure as soon as any new ones come out, we'll update the list as needed.
5 Best Portable Enail Dab Devices of 2022
Honorable Mentions
#1. Ispire Wand Portable Enail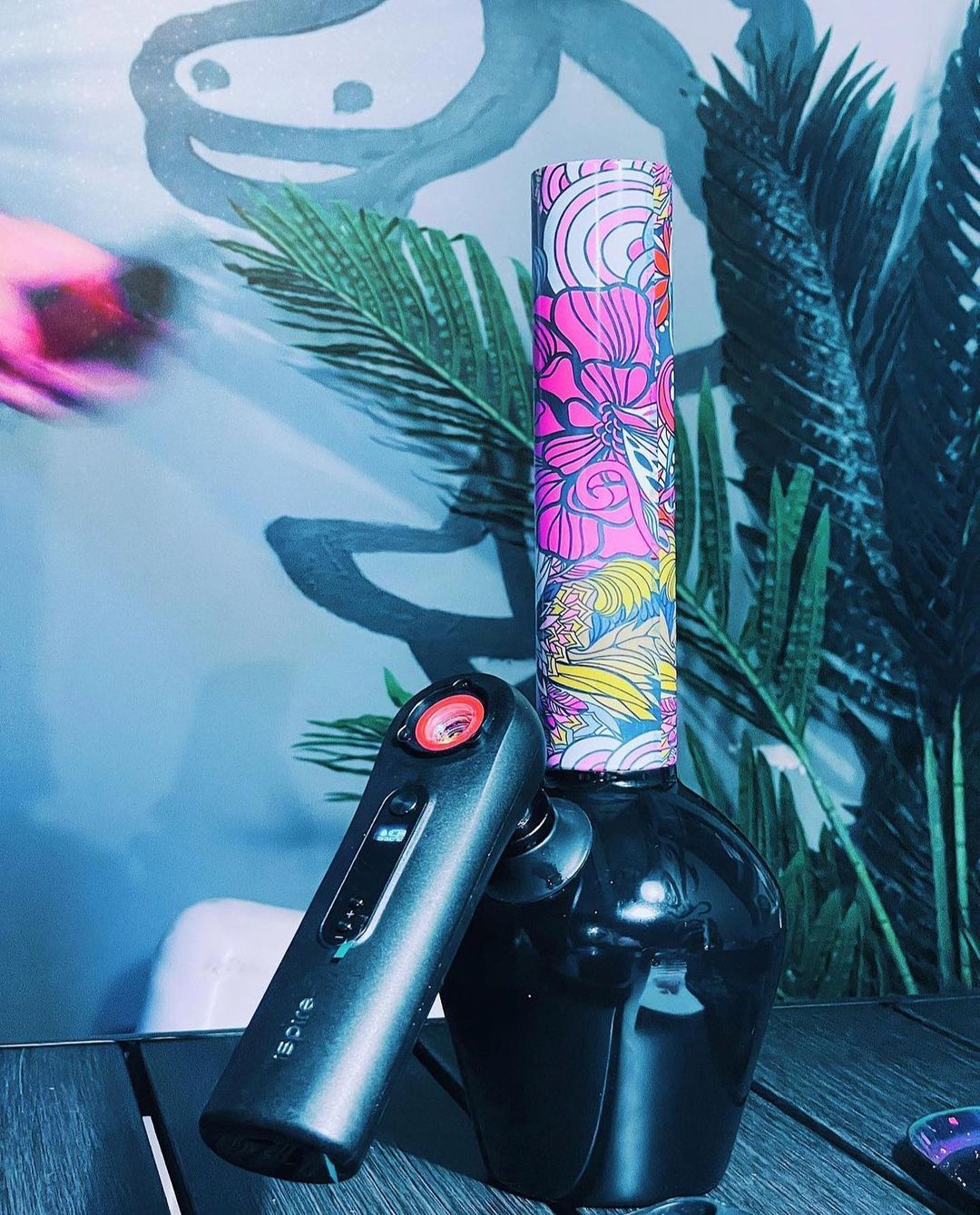 Welcome to the dabbing revolution. Our sleek portable eNail dab kit includes the first ever eNail to use induction heating. It gives you the power to select your desired temperature for the perfect dabbing experience every time.
With The Wand, You're in Control.
The Wand combined with our borosilicate glass bangers* create a safe and easy dabbing experience by eliminating the need for a torch along with the wires and coils found with other eNails. By using borosilicate glass bangers* with an induction heating method, The Wand is able to precisely heat the banger to your desired temperature. Once it is at the perfect dabbing temperature, place the concentrate in one of our borosilicate glass induction cup and take the perfect hit.
#2. Lookah Seahorse X 3-in-1 Portable Enail
Making a few top 5 lists this year, the Lookah Seahorse X Portable E-Nail offers similar taste to that of the unicorn, utilizing a quartz dish for pure taste and power. The carb option on the side of the device is an added bonus for an e-nail, so you don't have to remove the portable enail from your glass in order to carb. These small advancements make a tremendous difference in your dabbing experience.
#3. Lookah Q7 Quartz Digital Portable Enail (2000mAh)
Lookah Q7 is a portable electric dab nail professionally designed for wax as a mini enail banger.
It features a double layer quartz coil with patented technology and has cold start technology, real-time temperature control that all combine to ensure the purest and smoothest taste for enail dabbing possible.
The Q7 was the first of its kind to apply a quartz heating chamber with a temperature sensor, this provides the real temperature setting so you can get every bit of flavor and goodness from your concentrates. Its compact size makes this high-quality device one of the most portable e-nails so you can take your dabbing experience on the go.
The Lookah Q7 portable e-nail can fit onto any water pipe that has a 14mm or 18mm male joint connection. Don't settle for those clunky desktop enails and old titanium nails with the hassle of a butane torch and enjoy the pure taste and convenience you get with the Lookah Q7.
The screen displays both temperature and battery information which provides a very familiar experience to mods.
Temperature ranges between 200°F and 750°F means this portable enail can be used for all different types of wax concentrates.
#4. Gpen Connect Portable Enail
The G Pen Connect is a revolutionary alternative to conventional concentrate consumption that heats to temperature within five seconds of activation to deliver high-density, quality vapor production without the hassle of a torch and exposed nail. Powered by a ceramic heating element and featuring patented reverse airflow technology, the G Pen Connect vaporizes concentrates evenly and efficiently, and pairs with any glass-on-glass water piece to deliver smooth and powerful draws.
Designed with three temperature settings as well as an extended draw mode, the Connect tailors to each user's flavor and heat preferences while accommodating a wide variety of concentrates. The G Pen Connect Battery is packed with 850 mAh of power and uses an easy, snap-in magnetic connection for quick and effortless setup. Although small, the device is capable of driving several back-to-back sessions while supporting pass-through charging whenever needed.
The G Pen Connect offers compatible glass-on-glass attachments in 10mm*, 14mm and 18mm*, making it a well-suited partner to any female-jointed water piece. A spring-loaded carb release button creates instant airflow, allowing the chamber to be effortlessly cleared. Although perfect for home use, each G Pen Connect kit comes standard with a hemp travel pouch, making storage and transportation just as easy as using the Connect itself.
#5. Airistech Dabble 2-in-1 Portable Enail
The Airis Dabble 2-in-1 is a powerful, easy to clean, use, assemble and disassemble wax vape and portable e-nail
device. With three power settings, 2 heat up options, and two vaping options, the versatility on this thing is unbelievable!
Whether using on its own or paired with a bong, the Dabble will meet the needs of any concentrate user.
Water filtration is key for consumption for those who have a sensitive throat. Pairing your device with water filtration allows for larger, smoother hits, each and every time.
Be sure not to use too much water filtration as that may cool the vapor too much, resulting in excess residue in your bong or water filtration device.
The device heats up 2 different ways, either manually, as you press and hold the button, where it stops heating as soon as the button is no longer pressed.
Or you may use the session setting by simply double tapping the button, and allow for the heating cycle to do its thing!
Honorable Mentions
The SOC Tokes will take your concentrates to the next level, easy magnetic connection, quick heating element, 14mm, and 18mm compatible, turn any waterpipe into an electronic dab rig within seconds. SOC Tokes Wax Kit is a dual use wax vaporizer with a 14mm male water pipe adapter that makes this vape compatible with most water pipes. It has 2 mode options use connected to a waterpipe or as a traditional cart battery, an adjustable flow hole which allows for larger clouds. With a 650mAh battery, it has three adjustable voltage settings: 3V(Blue)/3.5V(Green)/4V(Red). At last, the device has a magnetic mouthpiece and a type-C USB charging cable.
#2. Exxus VRS 3-in-1 Portable Enail
The Exxus VRS 3 in 1 is a three in one multi use device, it can be used as an Electric Nectar Collector,
Concentrate Wax Pen, or a Portable E-Nail, no matter what you do with your concentrates, the VRS will surely accommodate.
This versatile device has three temperature settings, 370 Degrees being the lowest setting, 400 Degrees medium, and 425 Degrees being the highest. The lowest and medium setting should be utilized when you are looking for the most flavorful hits from your concentrates. The highest setting is for when youd like bigger satisfying hits with larger clouds.
Despite the Exxus VRS 3 in 1's smaller appearance and 3.5 Inch height, it actually contains an 850mAh integrated battery which is bigger than some electric nectar collectors and dab pens on the market. This device is sure to last you roughly 20-25 sessions, and when the battery runs low it charges up to a full charge in less than 2 hours!
The Electric Nectar Collector portion of the VRS is pretty straight forward and it kind of resembles the G9 GDip. To set up your VRS as a e-nectar collectorattach the included crushed quartz coil and the water bubbler attachment. The glass attachment features a dome perc, perfect to cool off and filter your hits which provides that less harsh, smooth, enjoyable experience. There you have it, you're ready to start dabbing into your precious concentrates!
The Electric Nectar Collector coil, as mentioned previously is made of crushed quartz, but if you are looking for a ceramic option, this device is compatible with the Lookah Seahorse Pro Ceramic Coils, and if you are having a hard time finding the quartz coil replacements you can also use the Lookah Seahorse Pro Quartz Coils. The only con of using these alternative options is that the cap does not stay on due to the different design of the coil base.
The VRS can be easily converted into a portable enail by attaching the atomizer included and the 14mm glass adapter. This device fits 14mm Male Connection Pipes or Rigs, or if needed we do carry an 18mm Portable E-Nail adapter that is compatible, however it is sold separately. If your favorite rig has a 10mm or a female connection, check out our adapters section to find one that will fit the VRS and your water pipe! The Portable Enail Atomizer on the Exxus VRS is made up of both crushed quartz and ceramic, crushed quartz is at the bottom floor of the atomizer and the walls are ceramic!
The Exxus VRS has a 510 thread connection so you can also use it with your cartridges or Wax Tanks while you are on the go, and comes with a ton of features like haptic feedback. Haptic Feedback means the device will vibrate when its reached your desired temperature which ensures you are always getting perfect timed hits! It also features a 15 second sesh mode, so that you can get continuous hits for 15 seconds at a time without having to wait for your VRS to heat up again! The last feature id like to mention is the carb on the side of the device, when pressed down it opens a hole allowing air to flow freely through, giving you the option to adjust your airflow based on your preference!
Literally the same thing as the Exxus VRS, just with a different name.
Yocan has just launched its latest wax vaporizer, the Rex. The Yocan Rex is the first portable e-nail wax vaporizer in Yocan's current offering to introduce the 1-click to start or stop feature which allows the device to be activated and deactivated using just one long click. It's ability to connect with any bong or rig with a 14mm-18mm Female or Male connection, makes it practically universal!
Recent Posts
Best Portable Dab Rig All-in-one Dab Rig Torch Setups of 2022(Best Cold Start Dab Rigs of 2022)Porta …

Best Electric Dab Tools E-Dabbers of 2022Electric Dab Tools also know as E-Dabbers are electrically …

Portable enail devices offer the convenience, control and power of an electronic dab device, whil …